Metropolis Iron
239-298-0561
Show off to all your friends at your next party!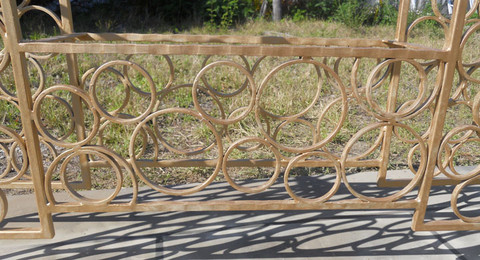 This table base is the perfect piece of furniture for the wine enthusiast.  It can hold up to (57) bottles of wine including (3) openings that are oversized for larger wine bottles or champagne bottle.  The oversized openings are even large enough to hold a 2 liter bottle of soda.
The table is 32" H without a table top, 60″ L and 18" D.  It's slim depth makes it a perfect piece to go behind a sofa or in a foyer.  There is a center shelf to display your favorite collectables or wine glasses.
This table is beautiful and durable. The legs are constructed of a tapered hammered solid iron leg.  Each ring has been individually welded to ensure wine bottle are secure.
This table can be fabricated to include an earthtone granite table top and shelf or a medium wood table top and shelf for an additional charge.  We accommodate custom paint finishes, additional charges may apply.
Table will be shipped via UPS freight for any purchasers outside the SW Florida area.
Metropolis Iron
239-298-0561